Madagascar: Building sustainable farming foundations with agroecology
In the highlands of Madagascar, farmers produce rainfed rice, roots and tubers, and fodder crops to maintain their livestock. Like many small farmers, they are limited by land and resources; increasing the productivity of their cropland is thus the goal of many, but without depending on expensive agricultural technologies and inputs.
For decades, NGOs, researchers and farmers have collaborated to promote locally appropriate agroecological practices that improve the sustainability of farming systems by increasing efficiency, substituting external inputs for locally available ones, and redesigning cropping systems.
Adapted varieties efficiently use locally available resources
Agroecological approaches aim to reduce the amount of inputs (e.g. water, pesticides, fertilisers) needed to produce crops. In Madagascar, researchers worked with farmers to select rice varieties adapted to the socio-environmental conditions that characterise many highland farms: the relatively cold climate, the presence of rice blast disease, and farmers' limited financial resources.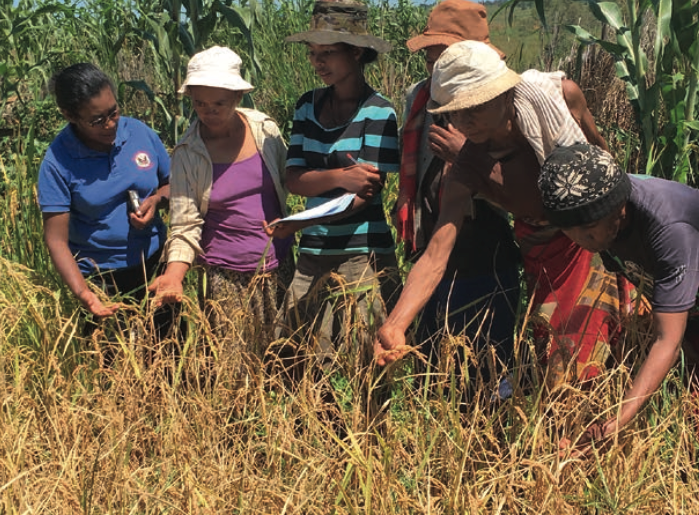 20 rice varieties adapted to these conditions were identified and offered through research-farmer collaboration. These varieties have traits that support crop production without requiring external inputs.
For example, researchers selected longer-maturing varieties with abundant vegetative production that were able to make use of mineralized nitrogen available in the soil, in addition to suppressing weeds. Varieties resistant to rice blast eliminated the need to purchase and apply costly chemical controls.
Varietal mixtures for resilience to disease
Some agroecological practices move towards more resilient and sustainable cropping systems by changing key components of a farming system, such as transitioning from mono-cropping, or using single crop varieties on larger areas, towards more diversified production. While farmers in Madagascar had begun to grow pure stands of rice varieties resistant to blast fungus, researchers feared that the pathogen would quickly evolve the ability to bypass this resistance. To prevent such an occurrence, farmers began to grow varietal mixtures – multiple varieties of rice- together in the same field (Figure 2).
These mixtures can reduce the disease's impact on susceptible varieties, as the resistant varieties provide a physical barrier to the spread of spores, thereby "diluting" the impact of the disease and inducing positive interactions between different varieties. The varietal mixtures can also make it possible for farmers to continue growing non-resistant varieties valued for other traits, such as ones valued by consumers.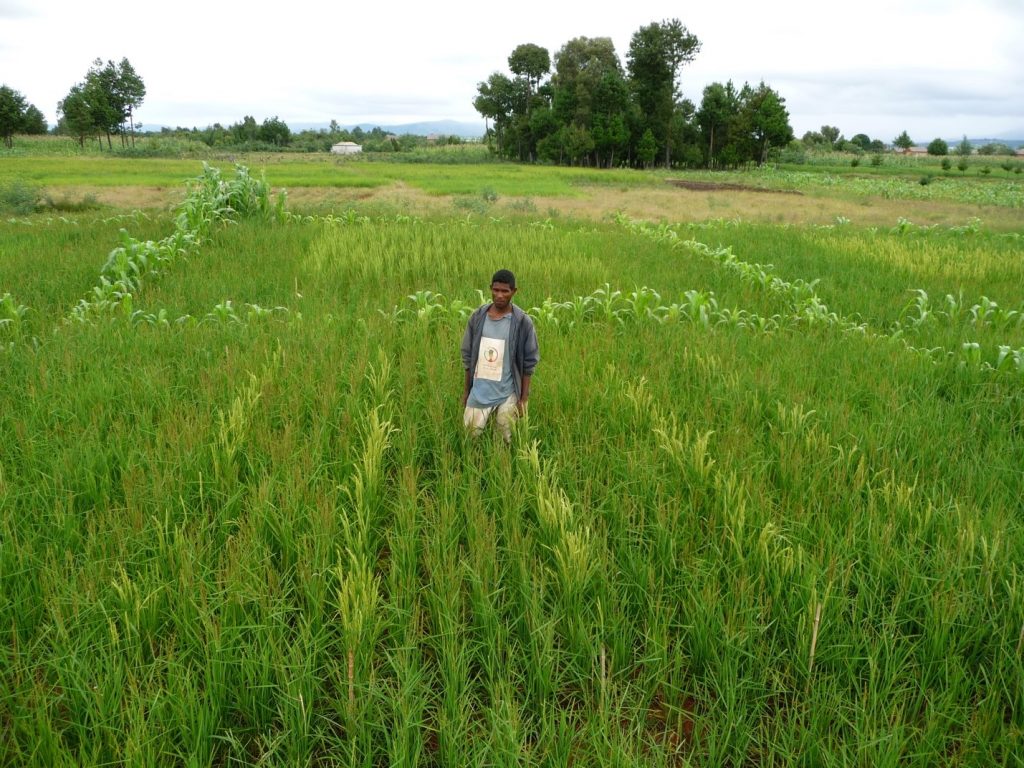 Improved manure for efficient nutrient management
Replacing manufactured inputs with resources internal to a farming system is a core tenet of agroecology. Rather than purchasing inorganic fertilisers, highland farmers were maintaining soil fertility primarily with manure produced on-farm by their own livestock. However, the quality of this manure varied greatly, with some farmers' applying manure that contained a nitrogen content of 2.6%, and others contributing a nitrogen content of only 0.6%. Researchers identified management and storage practices that enhanced capture and cycling of nutrients, leading to the production of high quality manure (Figure 3 and 4).
Recommendation provided were: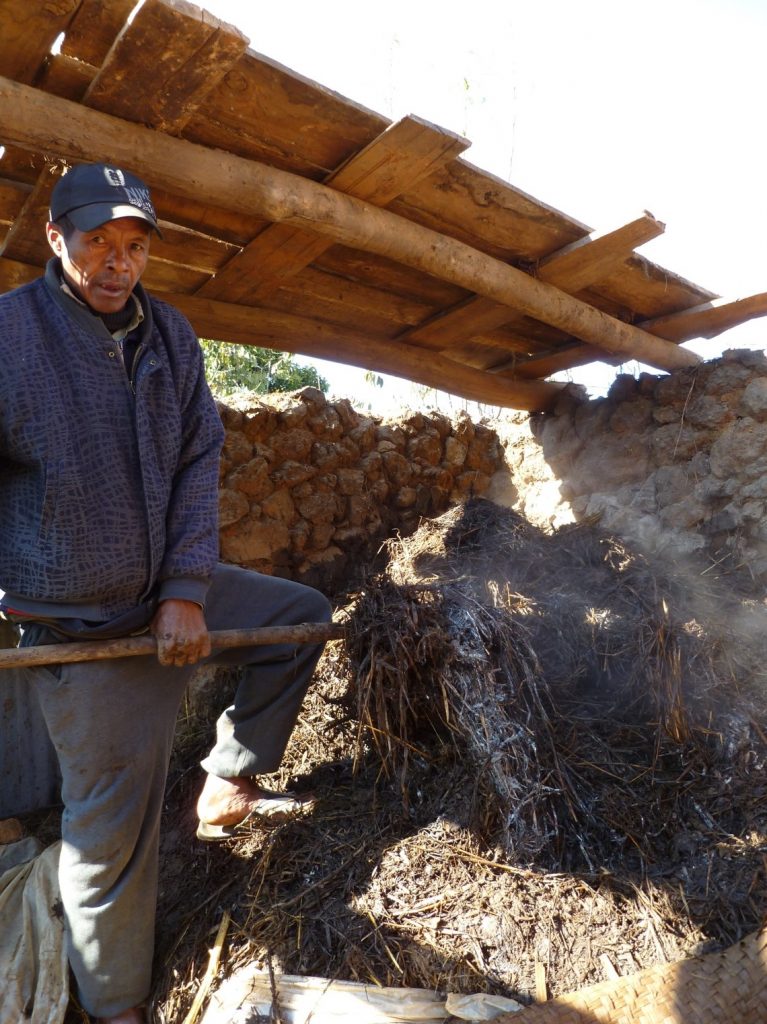 Add rice straw, vegetable peelings and leaves to droppings. This carbon- and nitrogen- material serves complementary roles in supporting the microbial activity that breaks down organic matter and makes nutrients available to field crops. 
Store manure carefully: pave stable floors and cover the pile from rain to reduce nutrient loss caused by rainfall and volatilization during hot days.
Outcomes
The introduction of locally-adapted rice varieties lowered production costs and the risks of crop failure due to climate or disease. As a result, rice production has become more accessible to farmers of varying altitude and socio-economic positions.
A participatory assessment found that introducing these rice varieties increased self-sufficiency in rice and reduced the number of months households experienced food insecurity each year by nearly four months. Also enhanced well-being in households was reported.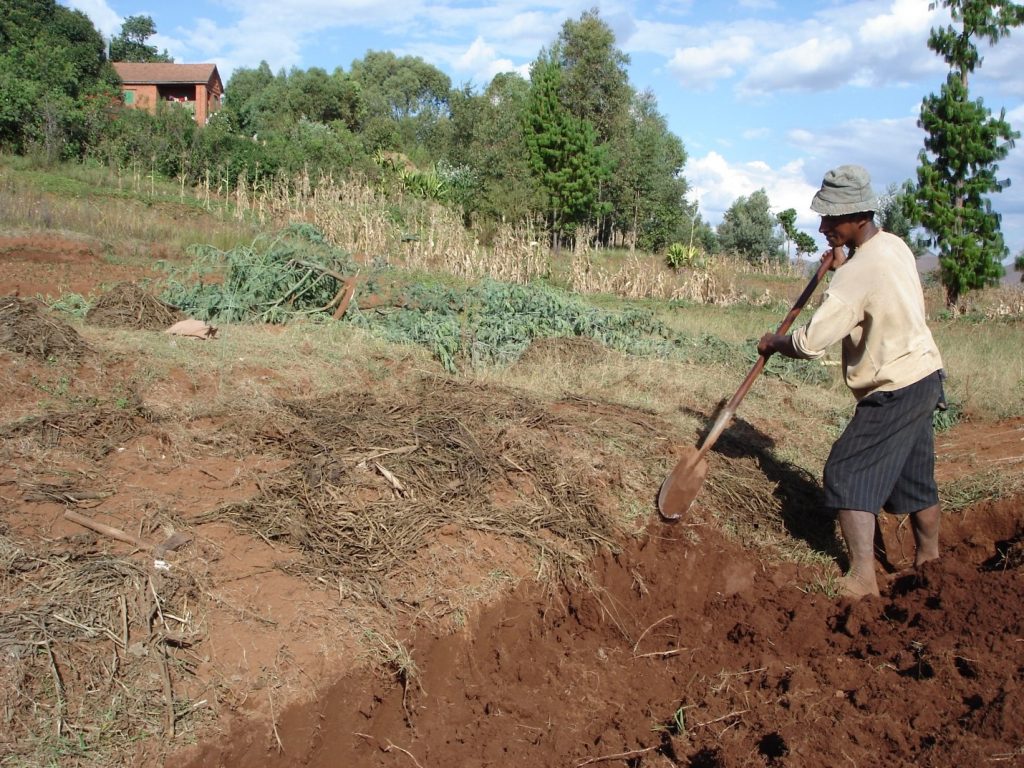 The use of crop variety mixtures made it possible for farmers to continue growing non-resistant varieties valued by consumers, and to lower the risk that rice blast will adapt to the resistant varieties. Indeed, research found that the effect of rice blast on varietal mixtures was nearly half that of the disease's effect on pure stands of one variety.
The improved manure produced with rice straw, vegetable peelings, and leaves coupled with improved storage of manure resulted in manure that was twice as nutrient rich as conventionally produced manure, leading to productivity increases of 1 t/ha for rainfed rice.
This example illustrates how pre-existing practices of "substitution" can be improved for more efficient usage of locally available nutrients.
Conclusion
Agroecological approaches were applied in highlands of Madagascar in developing improved practices with the aim to enhance ecological processes to increase food production.
To achieve this goal, researchers in Madagascar have worked closely with farmers to innovate and develop farming practices by improving locally adapted crop cultivars, increasing nutrient capture and recycling, and facilitating positive plant-plant interactions with cultivar mixtures. These efforts have successfully improved the lives of farmers even as they strengthen the agroecosystems that sustains them.
---
References
Breumier, P., Ramarosandratana, A., Ramanantsoanirina, A., vom Brocke, K., Marquié, C., Dabat, M.H., Raboin, L. 2018. Évaluation participative des impacts de la recherche sur le riz pluvial d'altitude à Madagascar de 1980 à 2015. Cahiers agricultures, 27, 15004, https://doi.org/10.1051/ cagri/2017065.
Naudin, K., Autfray, P., Dusserre, J., Penot, E., Raboin, L.-M., Raharison, T., Rakotoarisoa, J., Ramanantsoanirina, A., Randrianjafizanaka, Meva Tahiry, Rasolofo, Laingo Irintso, Raveloson, H., Razafimahatratra, Hanitriniaina Mamy, Salgado, P., Sester, M., Vom Brocke, Kirsten and Scopel, E. 2018. In: Côte, F.X., Poirier-Magona, E., Perret, S., Roudier, P., Rapidel, B., Thirion, M.C. (eds.), L'agro-écologie à Madagascar: de la plante au paysage. Versailles, Ed. Quae, France, pp. 43-80. http://agritrop.cirad.fr/590486/
Salgado, P., Tillard, E., Rarivoarimanana, B., Decruyenaere, V., Lecomte, P. 2014. Management practices to conserve the fertilizer N value of dairy manure in Vakinankaratra region, Madagascar. In: International conference Agroecology for Africa AFA2014: Agroecology and sustainability of tropical rainfed cropping systems, Madagascar, Antananarivo, 3-7 November 2014. FOFIFA, Université d'Antananarivo, LRI, IRD, CIRAD. https://agritrop.cirad.fr/575456/1/document_575456.pdf