Reducing hunger and drought effects in Ethiopia: a miraculous tree
In northern Ethiopia, recurrent and extended droughts threaten the existence of any who depend on livestock and crops for their food and income. Technologies such as high-tech irrigation equipment are unaffordable to most small family farms, and so producers look for local solutions to ensure that they can feed their herds during times of drought.
A tree that stays green when all life withers
A stable source of animal fodder must survive without rainfall, even after plants growing in natural pastures have dried up. Ficus thonningii (local name Shibaka) is such a species.
A few innovative farmers from villages in dry, mountainous areas of the country recognized this tree's drought-tolerance and, using indigenous protocols of planting and propagation, planted the species on their farms.
This silvopastoral practice with the integration of trees into livestock pastureland, was not widely known, and so the Ficus thonningii Silvopasture Project was initiated to assess the possible benefits and spread its use.
An abundant and nutritious source of animal feed
The tree is native to Ethiopia and can be found in many areas. It is easily propagated and used through indigenous practices of plant selection, planting, nursing, fodder treatment, and livestock feeding. Big cuttings taken from the plant, incubated, and planted, mature quickly, within 1.5 to 2 years. In addition to being drought tolerant, F. thonningii is adapted to a diverse range of soil conditions and can be grown on land that is unsuitable for other crops.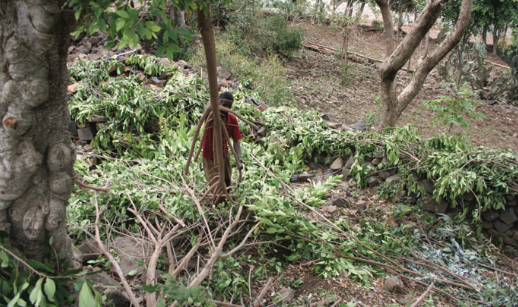 The productivity of F. thonningii far exceeds that of fodder plants that have been introduced through other agricultural interventions. A farmer can harvest substantial amounts animal feed from a tree, lopping off most of its leaves, and the tree will remain healthy and quickly replenish its leaves. Not only is the tree very productive, but the leaves themselves are highly nutritious, containing a crude protein content of 18-25%- which is close to the highest possible that a fodder tree can produce.
Outcomes
An accessible approach to ensuring animal health and productivity
The qualities of F. thonningii mean that farmers with limited resources can easily and successfully integrate the tree into their farming systems, planting the trees on both pasture land and on marginal or degraded land. Farmers have been able to produce nutritious animal fodder year-round, largely replacing expensive commercial animal feed concentrates.
At the same time as substituting this locally available fodder reduced production costs, F. thonningii leaf meals improved the health and growth rates of animals. For example, cows produced nearly two times more milk per day when fed F. thonningii leaf meal than when fed grass and straw.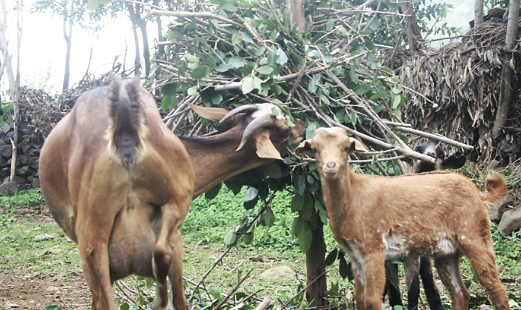 Restoring land and water
Smallholder farmers commonly have limited access to land, leading them to prioritize plots with good soil conditions to food crop production, and leaving little space available for growing animal fodder plants. F. thonningii's tolerance to inhospitable environmental conditions has allowed farmers to use marginal land for fodder production.
Furthermore, its drought tolerance has reduced the water requirements for livestock fodder production by 85%, a critical improvement in such an arid climate.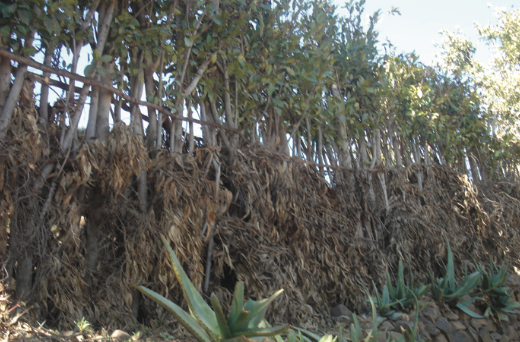 The tree can also improve the chemical and physical soil properties on cropland. Crops under the canopy of F. thonningii showed enhanced crop growth and yields compared to areas outside the canopies.
Moreover, researchers have found that reforesting degraded hillsides and pastureland with F. thonningii contributed to soil and water conservation on terraces, hillsides, and gullies. It was further found that the silvopastoral systems have rehabilitated wildlife habitats, leading to the return of once locally extinct wildlife including small mammals, and resident and migratory birds, among them the endangered White-billed starling.
Spreading silvopastoral systems through farmer exchanges
Recognizing the drought tolerance of silvopastoral systems with F. thonningii, multiple institutions collaborated to disseminate the practice across to other farmers.
Over 20,000 farmers in eight districts in Tigray Regional State participated in training programmes, which used a peer-peer learning strategy. Farmers new to the practice traveled to farms in districts where F. thonningii had already been integrated into livestock production.
These exchanges allowed farmers to see the benefits of the practice with their own eyes, in a context similar to their own farm. Such evidence was compelling and encouraged widespread uptake of the practice. For example, in one district, the number of F. thonningii planted on farmers' land doubled within four years, from 20,000 to 40,000 trees.
Farmers' own assessment of the advantages of the silvopastoral system was further supported by scientific findings of the impacts on livelihoods, climate change adaptation and ecosystem health.
Conclusion
Farmers have found that silvopasture systems with F. thonningii have built the adaptive capacity of both their farmland and landscapes. They are not only able to cope with droughts, but to reverse trends of landscape degradation while increasing the productivity of their crops and livestock. The tree is found in 33 African countries, making F. thonningii silvopastures a low-cost, accessible approach with high potential for further dissemination and scaling-up in other smallholder farming contexts.
---
References
Balehegn, M. 2018. Drought tolerant Ficus thonningii silvopastures sustain livestock and crops in Northern Ethiopia, AFSA. https://afsafrica.org/wp-content/uploads/2019/07/ficus-thonningi-eng-online.pdf
Balehegn, M., Eik, L.O., Tesfay, Y. 2014. Silvopastoral system based on Ficus thonningii: an adaptation to climate change in northern Ethiopia. African Journal of Range & Forage Science, 32:3, 183-191.
Berhe, D.H., Anjulo, A., Abdelkadir, A., Edwards, S. 2013. Evaluation of the effect of Ficus thonningii (blume) on soil physicochemical properties in Ahferom district of Tigray, Ethiopia. Journal of Soil Science and Environmental Management 4 (2), 35-45.